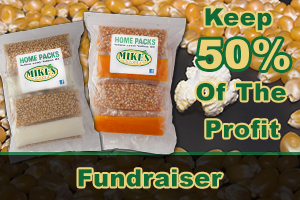 Fundraising couldn't be any easier, or more fun. And because you're selling the delicious goodness of Mike's Popcorn, you'll sell a lot – and make 50% profit on every sale. There's plenty for buyers to choose from, too: Cheese, Caramel, Jalapeno Cheese, Caramel/Cheese Mix, Triple Mix, and White. Everyone will love the popcorn. And you'll love the easy profits. It's deliciously simple. Just follow these easy steps:
For an old-school paper style fundraiser:
1. Fill out the easy-to-use form. (Download)
2. Email or mail the form to Mike's Popcorn.
3. Mike's Popcorn will mail you your sell sheets and you can start selling.
3. At the end of your selling period, gather your order forms and the money collected from the fundraising participants.
4. Send us the master order forms along with a check for 1/2 the total amount of money raised.
5. You keep the 50% profit and in one week, you'll have the product in hand, ready for distribution.
No waiting for checks! See exactly how much you made right away! Get your product quickly! And enjoy the smiles you get when those who bought Mike's Popcorn from you start poppin' into their mouths!
Note: Shipping costs are the responsibility of the organization. An invoice will follow with product shipment.