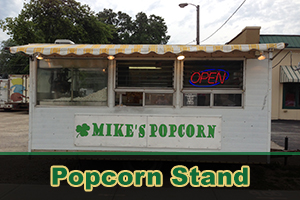 How It All Started
It was over four decades ago that Mike tucked his daughter into a wagon to take a stroll to their favorite popcorn stand on Wisconsin Avenue.
On that warm summer night in 1968, in place of a fresh bag of their favorite popcorn, Mike instead found a "For Sale" card on the stand.
It wasn't long before Mike was running the stand himself with the help of his wife and one inherited employee from the previous owner.
"I was always looking for something else to get in to," says Mike, a full time employee for a local paper mill. "And I loved the popcorn."
Mike's Popcorn is now available throughout 300 locations in Illinois, Wisconsin and Minnesota.
Location and Hours
Address: 210 West Wisconsin Avenue – Appleton, WI 54915
Hours: April – October (Monday to Sunday from 6pm to 9pm)