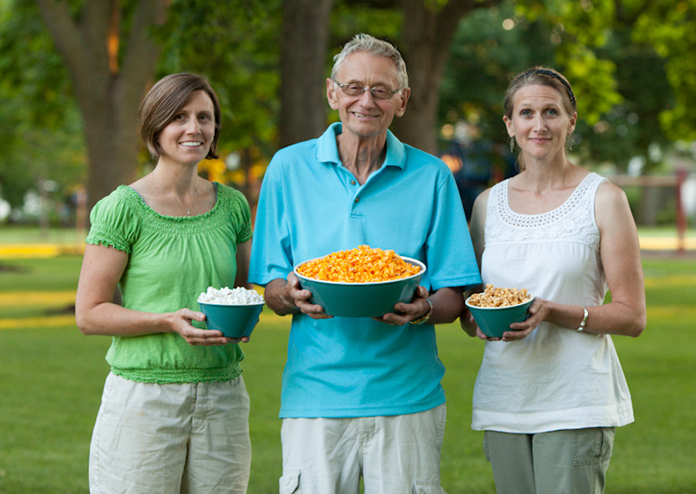 Who We Are
This pops is tops. Tops in flavor. Tops in quality. Tops in finger licking, pop-it-in-your-mouth, can't stop the delicious goodness.
Mike's Popcorn has been around since 1968. It's grown from a tiny one pop shop to a nationally distributed popcorn fan favorite. And for good reasons. It's fresh. It's flavorful. And it's fun.
From White  popcorn to Mike's Party Mix corn. From carmeliscious caramel corn to cheeseliscious cheese popcorn.
At Mike's Popcorn, it's all about the quality ingredients, perfect blends, and above all, satisfied customers.
Try some Mike's Popcorn. You'll quickly taste why it's the pops that's tops. And sign up for our newsletter to see what always popping at our place!
Our History
It's that traditional white corn that is served up nightly between April and October that started the loyal fan base. What makes it so popular? Aside from the smell hanging in the air on a warm summer night, the recipe is top secret and is the same recipe that was used back in 1968.
For Mike and his wife, Judy, the cart on Wisconsin Avenue served as a little extra for the family income.
"The extra from the popcorn stand allowed for family trips and other extras," he says.
As Mike's four daughters grew up, working the popcorn cart at night became a rite of passage.
"It was just something the girls knew they were going to do," he says. "And today, the grandkids are working the stand and they like the money."
More than 40 years later, Mike owns the business with his four daughters, Ann Bell, Mary Korth, Kathy Sultze and Sarah McElhone.
Click here to read our full history (courtesy of Insight Business).
Our Location
Address: 3071 Progress Way Kaukauna, WI 54130
Hours: Monday-Thursday, 9am – 3pm, Friday- 9am-1pm
Phone: 920-810-3708
Popcorn Stand
Address: 210 West Wisconsin Avenue – Appleton, WI 54915
Hours: April – October (Monday to Friday from 6pm to 9pm)
Where Can You Buy Mike's Popcorn?
Various retail outlets throughout Wisconsin: Sam's Club, Festival Foods, Bed Bath and Beyond, Woodman's, Pick n Save, and Piggly Wiggly.